Wide Wide WURLd
The first URL this month is an excellent resource for those wishing to learn the basics of space flight, including reference systems, gravitation and Kepler's Laws, transfer orbits, telecommunications, typical instruments and subsystems, and more. Written by the Jet Propulsion Laboratory, it can be found at the URL http://oel-www.jpl.nasa.gov/basics/bsf.htm.

A similar learning resource for physical chemistry, including a broad range of topics in quantum mechanics, molecular dynamics, spectroscopy, and more is presented by the University of California, San Diego.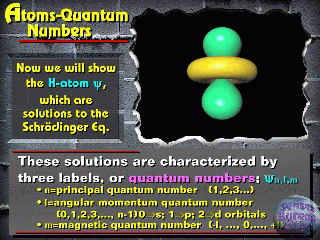 The material is primarily in the form of images and Quicktime movies designed to complement a lecture (e.g. above). It's at http://www-wilson.ucsd.edu/homepage.html.

If you're interested in global weather patterns, then there's a FTP URL for you. ftp://cumulus.met.ed.ac.uk/.

keeps global weather animations of the last 24 hours and the last week, as well as the latest images from weather satellites. The animations are in popular formats such as MPEG, so they can be played under all PC and Mac platforms with the appropriate software (check the SEDS ftp site if you need to find this software).

If you like to keep up on all the latest and greatest images from the Hubble Space Telescope, look no further than http://marvel.stsci.edu/EPA/Recent.html (Check out the latest Mars movie!!--it's also on SEDS ftp in the incoming directory).

Now for some Fun Time Wasters.

A good daily comic (example below) called The Borderline is at http://www.cts.com/~borderln/.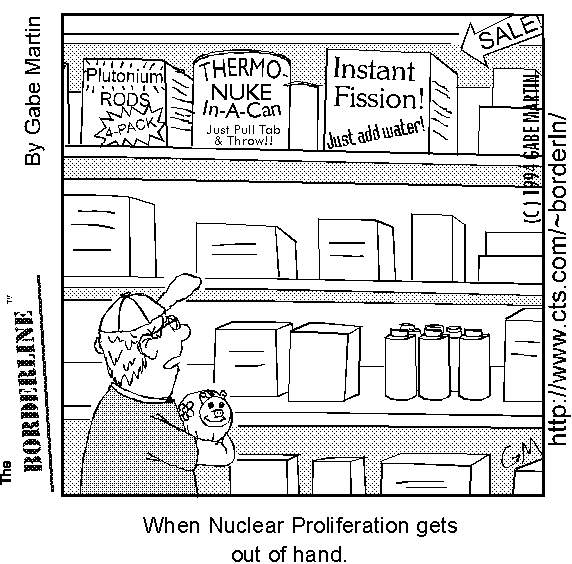 Check out the Full Graphic Assault of the Buzznet E-zine at http://www.hooked.net/buzznet/ gindex.html.
You've heard of the Riot Grrls, but have you heard of the Intrrr Nrrrds?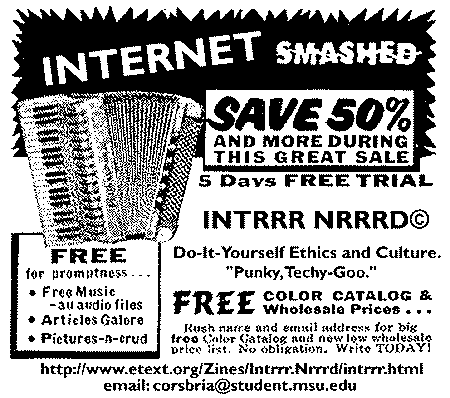 Then you must check out http://www.etext.org/Zines/Intrrr.Nrrrd/intrrr.html.

Don't waste your money on music mags like Rolling Stone or Spin; http://www.addict.com/ATN/ is Addicted To Noise, and has all you need.

Also, there isn't much need to subscribe to a weekly news magazine or newspaper when you've got http://www.sjmercury.com/ or http://www.trib.com/news/news.html with the latest news and photos from the major news services. Time magazine has a somewhat more succinct daily presentation at http://www.timeinc.com/time/ timehomepage.html .

Of course, the U of A Daily Wildcat is also on the web, but somehow reading it on-line is not as satisfying (perhaps because you can't throw it in the trash!).

The Tucson Movie Guide (http://192.195.240.196/tmg/) presents a complete hypertext guide to local shows.

In-depth political commentary can be found with Mother Jones at http://www.mojones.com/mojo_magazine.html.

Worldwide Pants brings you the latest Letterman Top Ten at http://www.cbs.com:80/lateshow/lateshow.html.

Finally, the Ascending Node has been on the web since September 94 here at http://seds.lpl.arizona.edu/.
---