Space Station Update
STS-76 recently docked with Russia's Mir Space Station, kicking off a two-year continuous presence for the U.S. aboard Mir. The six-member crew of Atlantis will stay docked for 5 days and then mission specialist Shannon Lucid will remain on Mir for four months. Lucid's stay on Mir makes her only the third woman, and the first American woman, to live on the 10-year-old space station. During docking. experiments will be attached to Mir's docking module and extra-vehicular activity hardware for ISS will be evaluated during a space walk.

Also in ISS news, the final weld for the second of two airlock bulkheads was completed two weeks ago. Vertical welding of the center cylinder is 80 percent complete. The bulkhead will be welded to the center cylinder in April. Once the Node, Lab, Mab, and Airlock modules complete structural testing, the interior will be cleaned, masked, and painted in Huntsville. During the coming weeks, technicians will use a developmental program module as a pathfinder to refine the paint application process.
---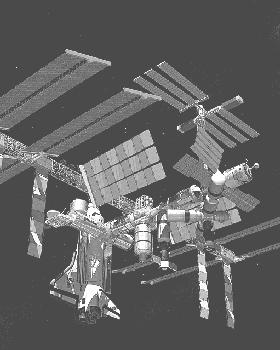 ---