Claudie Andre-Deshays became the first French woman in space on Saturday, August 17, when she and two Russian cosmonauts blasted off in their Soyuz capsule, docking with the Mir space station two days later.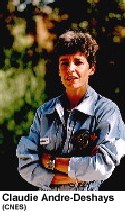 The launch, which had been delayed several times due to financial problems with the Russian space program and technical problems with the Soyuz booster, took place without incident. The Soyuz TM-24 spacecraft docked with Mir late Monday.
    Andre-Deshays will spend 16 days aboard Mir, conducting a number of biological and medical experiments. The two Russian cosmonauts who accompanied Andre-Deshays, Valery Korzun and Alexander Kalery, will remain on Mir for 225 days.
    Korzun and Kalery will replace the current Russian occupants of Mir, Yuri Onufrienko and Yuri Usachev. Onufrienko and Usachev will return to Earth with Andre-Deshays in early September. The other occupant of Mir, American astronaut Shannon Lucid, will remain aboard Mir until next month, when she is replaced by John Blaha when the shuttle Atlantis docks with Mir for the fourth time.
    The Soyuz launch used a Soyuz-U rocket instead of a more powerful Soyuz-U-2 rocket due to money problems. "Soyuz-U is not very comfortable for the launch of a crew of three, but we have no alternative at the moment," said one official. "A U-2 rocket is more expensive and the Russian space industry does not have enough money to build such a rocket right now."
    The launch came two weeks after a Progress supply craft launched after several delays. The M-32 spacecraft brought food and other supplies to the Mir crew.
    France is giving the money-starved Russian space program $13.7 million for Andre-Deshay's mission. It has no plans for similar short missions in the future, choosing to focus on preparations for longer missions on the International Space Station. "Short flights like those the Russians have carried out so far now look obsolete," Francois Fillon, the French minister in charge of space, told the newspaper Le Figaro.