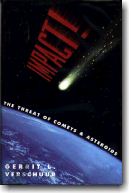 Impact!: The Threat of Comets and Asteroids
by Garrit L. Verschuur
Oxford University Press, 1996
hardcover, 237pp., illus.
ISBN 0-19-510105-7
US$25


Books about the threat posed by asteroid and comet impacts are raining down on bookshelves like, well, a meteor shower. It's not good enough now to simply write a book about the possibility of an impact and what would happen during an impact, as there have been too many books on that subject alone. Instead, the book must go further afield in some way and set itself apart from other works. While Impact tried to do this to some degree, it doesn't quite succeed in carving a niche for itself in the asteroid and comet impact bookshelf.
     Verschuur, a radio astronomer by training, covers much of the same ground as other books here. He provides a detailed history of the discovery of the Chicxulub impact crater in Mexico, now widely regarded as the impact event which killed off the dinosaurs and other species 65 million years ago. Other chapters explore the impact threat of asteroids and comets, and how they have been viewed throughout history. A later chapter describes the impact of comet Shoemaker-Levy 9 with Jupiter in 1994, and another explores methods of preventing future collisions.
     Verschuur tried to cover new ground by exploring a hypothesis that a giant impact almost 10,000 years ago took place on Earth and perhaps helped spur the development of civilization. Most of the evidence for this, though, is based on possible interpretations of myths from a number of cultures, with only a small amount of scientific evidence. This hypothesis hasn't attained wide support among scientists, especially in the United States, though, so we're left with little more than an interesting idea.
     A couple of years ago, before the rain of impact books began hitting the bookshelves, Impact would have been an outstanding, interesting, piece of work. Today, though, much of what's told here has already been described in equal or better detail by other authors, leaving little unique material or new explanations for this book to stand on. This is not to say Impact is a bad book, but there are other books, possibly better ones. (A couple good examples are Rain of Iron and Ice by John Lewis and Rogue Asteroids and Doomsday Comets by Duncan Steel). If you've read those books, there's little reason to read Impact.