A team of three British scientists reported October 31 that they had found organic material -- which they interpreted as evidence of past life on Mars -- in another meteorite from the Red Planet.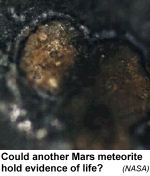 "We have identified a second meteorite which appears to contain matter which we define as organic," said Colin Pillinger of Britain's Open University, at a press conference October 31.
     The meteorite they team studied, EETA79001, is much younger than the meteorite in which NASA scientists found evidence of life earlier this year. EETA79001 may be only 175 million years old, suggesting that life may have existed on Mars far longer than once thought possible.
     Pillinger, Ian Wright, and Monica Grady found organic materials at concentrations of up to 1,000 parts per million, far greater that what one would expect from a random concentration.
     The team found similar organic concentrations in ALH84001, they reported.
     "This is fairly strong supporting evidence," Everett Gibson, one of the NASA scientists who found evidence of life in ALH84001, told UPI. "We're really quite pleased."
     Pillinger and his team have yet to publish their results.