A combination of delays due to an investigation of a booster problem, poor weather, and a conflict with an unmanned launch have all worked to delay the planned launch of the shuttle Columbia until at least November 19.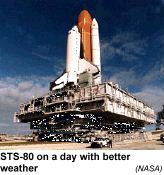 No launch date had been officially set for mission STS-80, but NASA had been working towards a November 8 launch while investigating a problem seen in one of the booster rockets after the launch of Atlantis in September.
     Engineers discovered up to sixty grooves etched in the insulation of on the booster's nozzles after the Atlantis launch. The grooves had been cut by hot exhaust gases, but the mechanism that allowed the gases to get at the insulation was not understood.
     The ongoing investigation forced NASA on November 4 to hold off on a launch decision for one week while work continued on the cause of the anomaly.
     A week later, after both a NASA panel and an independent group decided that, while the cause of the erosion was still unknown, it posed no possible threat to the shuttle, NASA scheduled the launch for November 15.
     Poor weather and launch delays have further delayed the shuttle launch. An Atlas rocket scheduled to launch Wednesday was delayed by poor weather. Since a minimum of two days is required between launched for the Air Force to make range preparations, the shuttle launch was pushed back until the afternoon of Saturday, November 16.
     The launch was then further delayed to the 19th due to weather forecasts, which call for high winds, clouds, and rain for the next several days.
     When launched, Columbia will spend 16 days in orbit. It will deploy and retrieve two satellites: the Wake Shield Facility, a materials science spacecraft studying the growth of semiconductor films in an ultravacuum, and ORFEUS/SPAS, an astronomy satellite.
     Astronauts will also perform two spacewalks to test assembly techniques that will be used for the International Space Station.
     The delay in the launch means the shuttle crew will spend Thanksgiving in orbit. "We managed to find some turkey and dressing and we'll add some green beans from the menu that's already aboard," said mission commander Ken Cockrell. "We're all set for turkey day."