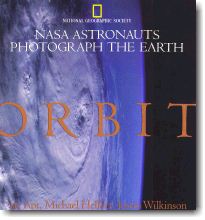 Orbit: NASA Astronauts Photograph the Earth
by Jay Apt, Michael Helfert, and Justin Wilkinson
National Geographic Society, 1996
hardcover, 224pp., illus.
ISBN 0-7922-3714-5
US$40/C$56


pictures of planets, moons, stars and distant galaxies and other cosmic phenomena. Yet, some of the best, and most well received, photos have been pictures of our own Earth taken from space. Whether its the ability to look at the planet without the usual reference marks of labels and borders, or the new perspective space provides on familiar features, images of the Earth have been among the most popular space images taken to date. A shuttle astronaut and two earth scientists have compiled nearly 200 of the best pictures into the beautiful book Orbit.
     The book is laid out like the flight plan of the shuttle. The first section is Africa, the first landmass encountered by shuttle astronauts after launch. Later chapters follow the progression of the shuttle in orbit: Europe and the Middle East, Asia, the Pacific, Middle and South America, and North America. A special section in the middle of the book provides some astounding views of the Earth's aurora as seen by the shuttle. The text of the book is kept to a minimum: some introductory comments in each chapter, explanatory captions for each picture, and some additional information at the beginning and end of the book.
     It is difficult to describe the quality of the pictures here. They are beautiful, amazing, educational, and more. Each picture is in rich color and many fill one or two of the books oversized (10.75" by 12") pages. At a price of $40, Orbit may seem like a bit much for what could be described as simply a fancy picture book, but it's really quite a bargain for the sheer beauty of the book.