CNN reports that Vice President Al Gore will be sponsoring a special Mars symposium on December 11 for about 20 members of the scientific and religious communities. The symposium will discuss the evidence for past and possibly present life on Mars, and the impact such a discovery will have. The National Academy of Sciences is preparing a number of whit papers to be discussed at the meeting. The symposium is seen as a prelude to the bipartisan space summit planned for early next year.
Much to the relief of the three-man crew on the Mir space station, the Progress M-33 supply craft docked with the space station on November 22. The cargo craft carried food, including fresh vegetables, for the two Russians and one American on the station and brought other supplies which should remedy their previous waste-disposal problems... An Atlas 2 rocket launched a European communications satellite on November 21. The Hot Bird 2 satellite, owned by Eutelsat, was placed into geosynchronous orbit, where it will be used to provide dozens of television channels to customers from Europe to Kazakhstan.
Cooperation in space ventures was one of the areas of an agreement signed November 18 between the French and Japanese governments. Under the "20 Points for the Year 2000" program, the French space agency CNES and the Japanese space agency NASDA will work together to develop satellite communications systems. France may also play a role in Japan's "Planet B" mission to Mars, scheduled for launch in two years...China unveiled plans for a $1-billion radiotelescope project in a rugged region in the southwest corner of the country. The plans calls for 30 large radiotelescopes spread over a 1-kilometer area. The radio telescopes would be incorporated into the terrain, noted for its unusual limestone pinnacles which would provide "a perfect setting" according to one Chinese scientist.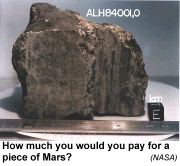 Rocks from the Red Planet didn't provide enough greenbacks for one collector. Three Martian meteorites went on the auction block in New York November 20 but failed to produce a bid high enough for the collector. Bidding quickly raised the price from the $500,000 opening bid to $1.1 million, but failed to go any higher for the collection. "We are very disappointed that the meteorites did not sell tonight," Arlen Ettinger, president of Guernsey's auction house, said. Before the auction Ettinger had predicted a selling price of $1.5 to 2 million. Despite the failure to sell, the price of Martian meteorites overall has quadrupled since the August announcement of past life on Mars found in one meteorite, according to Simon Clemett, one of the members of team that studies the now-famous ALH 84001.