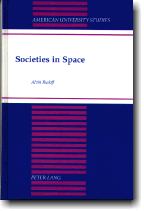 Societies in Space
by Alvin Rudoff
Peter Lang, 1996
hardcover, 210pp.
ISBN 0-8204-3078-1
US$42.95
Far too often books about space exploration focus on the technical details, such as the costs of getting into orbit, the technologies needed to open the space frontier, and the scientific wonders of the cosmos that await our discovery. Far less work is devoted to how people will work, live, and govern themselves in space. That's why Alvin Rudoff's Societies in Space looked like a promising study of these areas. Unfortunately, it falls far short of expectations.
     "The major purpose of Societies in Space is to encourage the involvement of the Social Sciences in the construction of the High Frontier," Rudoff writes. Accuracy isn't apparently required for the social sciences, though, as this book is rife with errors. Some are just embarrassing -- substituting the work "Skylab" where "Spacelab" and, in one case, "Salyut" was intended -- and some explanations are just hard to swallow ("Gravity comes with an atmosphere" ?) This book did not get the editing attention it needed to be a better book.
     The book moves around, going from the physiological and psychological aspects of living in space to the effects of contact with extraterrestrial intelligences to how an orbiting community might govern itself. Had Dr. Rudoff focused on some of these ideas and explored them in greater detail, and had better editing, this might have been a much more useful book. However, Societies in Space is not work the hefty price tag for such a slender, inaccurate book.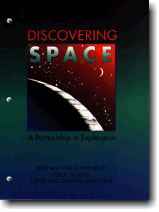 Discovering Space: A Partnership in Education
by the Jordan (Utah) School District
Kendall/Hunt Publishing Company, 1996
softcover (spiral-bound), 225pp. (approx.), illus.
ISBN 0-7872-1798-0
Discovering Space is a sourcebook for teachers and students to use to prepare classroom exercises related to space. The exercises in the book are broken down into four areas: history, living and working in space, communications, and global ethics and concerns. A variety of exercises are available in each section, ranging in grade levels from kindergarten to 12th grade.
     While it's not possible to truly evaluate the quality of this book without using at least some of these exercises in the classroom, there s a wide range of exercises which can instill in students an interest in space while at the same time teaching them about separate topics. A resource section in the back of the book provides listings of additional sources of information from NASA and private enterprise. For any teacher or parent interested in using space as a vehicle to enhance children's education, Discovering Space could be an excellent guide to classroom activities.