MVACS
Thermal and Evolved Gas Analyzer
Official Homepage
---
For years humans have looked toward Mars as the next frontier, the next home for mankind. In an effort to increase our understanding of the red planet NASA has embarked on an ambitious program of Mars exploration. MVACS along with Mars Global Surveyor '98 will be the next step in this program.
Mars Surveyor Timeline Image (CAP presentation)
In November of 1995 the Mars Volatiles and Climate Surveyor was selected as the lander payload for the January, 1998 launch and intends to answer a few questions after it's arrival in 1999.
Where in blazes has all that pesky water got off to!?
Were Martian critters furry or hard shelled!?
What the heck is that Martian atmosphere up to anyway!?
---
Meet the TEGA Team!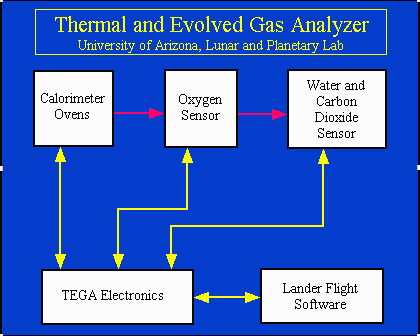 ---
---
These pages Copyright (C)1997, University of Arizona.
Martian by Gramps.
If you have comments or suggestions, email Wen Jeng Ko and Dave Hamara.
These pages built and maintained by Aaron Schultz.