SEDS Voted into Best of the Web by the Popular C|NET Site
SEDS Internet Party House fire up your Web rockets and surf the cosmos!
Now here's a Web site that's literally as large as the known universe. Hosted by Students for the Development and Exploration of Space (SEDS) at the University of Arizona, SEDS Internet Party House is 1.7GB of space images and information covering everything from astronomy and other space sciences to aerospace and astronautics and visions of the future. The multimedia tour of our own solar system alone is a rich visual excursion enhanced by selected audio files and animations, exquisite satellite images, enlightening mythological references, and easy-to-read commentary on a given planet's physical composition and history of exploration. The colossal Space Images Archive houses comets, asteroids, lunar and solar eclipses, and so much more. So fire up your Web rockets and become the intrepid astrosurfer you've always wanted to be. SEDS has placed clearly marked signposts all along the way. If you're more interested in the little green Martian running around on a faraway planet, check out c|net's sections on aliens on the Net and sci fi on the Net.
---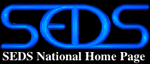 ---