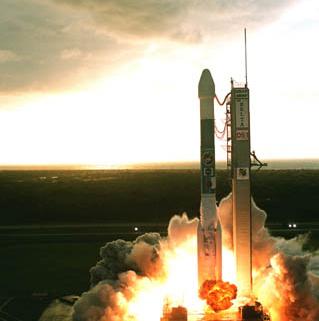 Above: The Boeing Delta II Rocket with SEDSAT-1, DS-1 and NASA emblems launches on the morning of October 24th (Image courtesy of NASA).
The SEDSAT 1 project has grown from a simple project begun by two students and their mentors, to an international project with volunteers worldwide, making a significant impact on the development and utilization of advanced technology for the general space program. The amateur radio communications and the educational opportunities that will be afforded by SEDSAT 1 will be used to educate students of all ages in technological pursuits for the advancement and betterment of all mankind.
Updates
---

Satellite Launched October 24, 12:08:00.525 UTC!

Launch Photos

See the assembly photos of SEDSAT-1.

Tracking and Telemetry

Press Coverage
---

Contact Information
The University of Alabama in Huntsville
SEDSAT-1
Room 273 Engineering Building
Huntsville, AL 35899
(256) 890-6912

Students for the
Exploration and
Development of
Space