(Part 2 of 2 -- Ed.)
Technological Innovation
Without the opening of a new frontier on Mars, continued Western civilization faces the risk of technological stagnation. To some this may appear to be an outrageous statement, as the present age is frequently cited as one of technological wonders. In fact, however, the rate of progress within our society has been decreasing, and at an alarming rate. To see this, it is only necessary to step back and compare the changes that have occurred in the past 30 years with those that occurred in the two preceding 30 periods.
     Between 1903 and 1933 the world was revolutionized: Cities were electrified; telephones and broadcast radio became common; talking motion pictures appeared; automobiles became practical; and aviation progressed from the Wright Flyer to the DC-3 and Hawker Hurricane. Between 1933 and 1963 the world changed again, with the introduction of color television, communication satellites and interplanetary spacecraft, computers, antibiotics, SCUBA gear, nuclear power, Atlas, Titan, and Saturn rockets, Boeing 727's and SR-71's.
     Compared to these changes, the technological innovations from 1963 to the present are insignificant. Immense changes should have occurred during this period, but did not. Had we been following the previous 60 years technological trajectory, we today would have videotelephones, solar powered cars, maglev trains, fusion reactors, hypersonic intercontinental travel, regular passenger transportation to orbit, undersea cities, open-sea mariculture and human settlements on the Moon and Mars.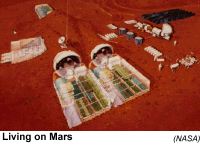 Consider a nascent Martian civilization: Its future will depend critically upon the progress of science and technology. Just as the inventions of produced by the "Yankee Ingenuity" of frontier America were a powerful driving force on world-wide human progress in the 19th century, so the "Martian Ingenuity" born in a culture that puts the utmost premium on intelligence, practical education and the determination required to make real contributions will provide much more than its fair share of the scientific and technological breakthroughs that will dramatically advance the human condition in the 21st century.
     A prime example of the Martian frontier driving new technology will undoubtedly be found in the arena of energy production. As on Earth, a copious supply of energy will be crucial to the success of Mars settlements. The Red Planet does have one major energy resource that we currently know about: deuterium, which can be used as the fuel in nearly waste-free thermonuclear fusion reactors. Earth has large amounts of deuterium too, but with all of its existing investments in other, more polluting forms of energy production, the research that would make possible practical fusion power reactors has been allowed to stagnate. The Martian colonists are certain to be much more determined to get fusion on-line, and in doing so will massively benefit the mother planet as well.
     The parallel between the Martian frontier and that of 19th century America as technology drivers is, if anything, vastly understated. America drove technological progress in the last century because its western frontier created a perpetual labor shortage in the east, thus forcing the development of labor saving machinery and providing a strong incentive for improvement of public education so that the skills of the limited labor force available could be maximized. This condition no longer holds true in America. In fact far from prizing each additional citizen, immigrants are no longer welcome here and a vast "service sector" of bureaucrats and menials has been created to absorb the energies of the majority of the population which is excluded from the productive parts of the economy. Thus in the late 20th century, and increasingly in the 21st, each additional citizen is and will be regarded as a burden.
     On 21st century Mars, on the other hand, conditions of labor shortage will apply with a vengeance. Indeed, it can be safely said that no commodity on 21st century Mars will be more precious, more highly valued and more dearly paid for than human labor time. Workers on Mars will be paid more and treated better than their counterparts on Earth. Just as the example of 19th century America changed the way the common man was regarded and treated in Europe, so the impact of progressive Martian social conditions will be felt on Earthy as well as on Mars. A new standard will be set for a higher form of humanist civilization on Mars, and, viewing it from afar, the citizens of Earth will rightly demand nothing less for themselves.
Politics on Earth with Humans on Mars
The frontier drove the development of democracy in America by creating a self-reliant population which insisted on the right to self-government. It is doubtful that democracy can persist without such people. True, the trappings of democracy exist in abundance in America today, but meaningful public participation in the process has all but disappeared. Consider that no representative of a new political party has been elected President of the Unites States since 1860. Likewise, neighborhood political clubs and ward structures that once allowed citizen participation in party deliberations have vanished. And with re- election rates typically close to 95 percent, the U.S. Congress is hardly susceptible to the people's will. Regardless of the will of Congress, the real laws, covering ever broader areas of economic and social life, are increasingly being made by a plethora of regulatory agencies whose officials do not even pretend to have been elected by anyone.
     Democracy in America and elsewhere in western civilization needs a shot in the arm. That boost can only come from the example of a frontier people whose civilization incorporates the ethos that breathed the spirit into democracy in America in the first place. As Americans showed Europe in the last century, so in the next the Martians can show us the way away from oligarchy.
There are greater threats that a humanist society faces in a closed work than the return of oligarchy, and if the frontier remains closed we are certain to face them in the 21st century. These threats are the spread of various sorts of anti-human ideologies and the development of political institutions that incorporate the notions that spring from them as a basis of operation. At the top of the list of such pathological ideas that tend to spread naturally in a closed society is the Malthus theory, which holds that since the world's resources are more or less fixed, population growth must be restricted or all of us will descend into bottomless misery.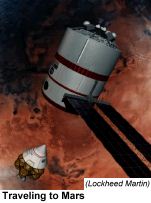 Malthusianism is scientifically bankrupt -- all predictions made upon it have been wrong, because human beings are not mere consumers of resources. Rather, we create resources by the development of new technologies that find use for new raw materials. The more people, the faster the rate of innovation. This is why (contrary to Malthus) as the world's population has increased, the standard of living has increased, and at an accelerating rate. Nevertheless, in a closed society Malthusianism has the appearance of self-evident truth, and herein lies the danger. It is not enough to argue against Malthusianism in the abstract -- such debates are not settled in academic journals. Unless people can see broad vistas of unused resources in front of them, the belief in limited resources tends to follow as a matter of course. If the idea is accepted that the world's resources are fixed, then each person is ultimately the enemy of every other person, and each race or nation is the enemy of every other race or nation. Only in a universe of unlimited resources can all men be brothers.
Mars Beckons
     Western humanist civilization as we know and value it today was born in expansion, grew in expansion, and can only exist in a dynamic expansion. While some form of human society might persist in a non-expanding world, that society will not feature freedom, creativity, individuality, of progress, and placing no value on those aspects of humanity that differentiate us from animals, it will place no value on human rights or human life as well.
     Such a dismal future might seem an outrageous prediction, except for the fact that for nearly all of its history most of humanity has been forced to endure static modes of social organization, and the experience has not been a happy one. Free societies are the exception in human history -- they have only existed during the four centuries of frontier expansion of the West. That history is now over. The frontier opened by the voyage of Christopher Columbus is now closed. If the era of western humanist society is not to be seen by future historians as some kind of transitory golden age, a brief shining moment in an otherwise endless chronicle of human misery, then a new frontier must be opened.
Mars Beckons.
     But Mars is only one planet, and with humanity's power over nature rising exponentially as they would in an age of progress that an open Martian frontier portends, the job of transforming and settling it is unlikely to occupy our energies for more than three or four centuries. Does the settling of Mars then simply represent an opportunity to "prolong but not save a civilization based upon dynamism?" Isn't it the case that humanist civilization is ultimately doomed anyway? I think not. The universe is vast. Its resources, if we can access them, are truly infinite. During the four centuries of the open frontier on Earth, science and technology have advanced at an astonishing pace. The technological capabilities achieved during the 20th century would dwarf the expectations of any observer from the 19th, seem like dreams to one from the 18th, and appear outright magical to someone from the 17th century. If the past four centuries of progress have multiplied our reach by so great a ratio, might not four more centuries of freedom do the same again? There is ample reason to believe that they would.
     Terraforming Mars will drive the development of new and more powerful sources of energy; settling the Red Planet will drive the development of ever faster modes of space transportation. Both of these capabilities in turn will open up new frontiers ever deeper into the outer solar system, and the harder challenges posed by these new environments will drive the two key technologies of power and propulsion ever more forcefully, opening the path to the stars. The key is not to let the process stop. If it is allowed to stop for any length of time, society will crystallize into a static form that is inimical to the resumption of progress. That is what defines the present age as one of crisis. Our old frontier is closed, the first signs of social crystallization are clearly visible. Yet, progress, while slowing, is still extant; our people still believe in it and our ruling institutions are not yet incompatible with it.
     We still possess the greatest gift of the inheritance of a 400-year long Renaissance: To wit, the capacity to initiate another by opening the Martian frontier. If we fail to do so, our culture will not have that capacity long. Mars is harsh. Its settlers will need not only technology, but the scientific outlook, creativity and free-thinking individualistic inventiveness that stand behind it. Mars will not allow itself to be settled by people from a static society -- those people won't have what it takes. We still do. Mars today waits for the children of the old frontier, but Mars will not wait forever.
Robert Zubrin, Ph.D., is the chairman of the executive committee of the National Space Society.