According to reports in the January 3 issues of the Orlando Sentinel and Florida Today, former astronaut and Air Force Maj. Gen. Roy D. Bridges Jr. is the likely candidate to succeed Jay Honeycutt as director of the Kennedy Space Center. Bridges piloted the shuttle Challenger on a 1985 mission. Bridges told the Sentinel that he is interested in the job.
Momentum is building for including Robert Lawrence on the Astronaut Memorial at the Kennedy Space Center. Lawrence, an Air Force major, had been selected for the Air Force's Manned Orbiting Laboratory project but did not fly in space before dying in a fighter crash in 1967. He was thus not classified as an astronaut and not included on the memorial with 16 other astronauts who died on missions or in training. However, a December 20 letter from Air Force Secretary Sheila Widnall to the Astronaut Memorial Foundation (AMF) "highly recommended" that Lawrence's name be added. Jim DeSantis, president of the AMF, was not persuaded, telling Florida Today that the letter was a "continuing copout" by the Air Force and asking for further clarification.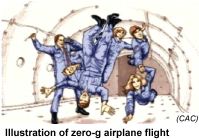 Looking for a way to experience spaceflight but can seem to find a way to get into space? Casey Aerospace Corporation (CAC) may have the solution, if you don't mind being earthbound. The company announced plans December 16 for a $50 million training and education center that would offer a "comprehensive weightless spaceflight experience", according to a company press release. The training sessions would conclude with a flight on a aircraft performing parabolic maneuvers to provide brief moments. It won't come cheap, either: the company estimates the cost of the program to be $10,000, with first flights from a central Florida facility in 1998. CAC officials have experience with spaceflight: the president is former astronaut Ed Gibson, and Sally Ride and Norm Thagard are serving as consultants.
Several small Mars meteorites were sold at an auction in New York December 14. A tiny 0.1 g piece of the Zagami meteorite sold for $550, while a 1.3 g sample sold for $2,000. A 2.57 g sample of the Nakhla meteorite sold for $4000, but the largest one available, a 7.6 g sample of Zagami, went unsold when the largest bid, $11,000, failed to meet an unknown minimum... If larger meteors interest you more, keep your eyes on NBC in February. The network has been running promotions for a miniseries called "Asteroid", where a 4-mile (7-km) asteroid threatens to collide with Earth. It looks to be a disaster movie in the finest tradition of Irwin Allen...