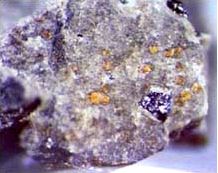 Martian Meteorite ALH84001 contains globules formed at low enough temperatures to support the hypothesis that they were created by ancient Martian life. For more details, look inside under Top Stories.
Oxygen problems on Mir
New evidence supports Mars life
Russia opens new cosmodrome
Atlas launches TV satellite
Lunar Prospector satellite finished
STS-83 on track for April launch
X Prize competitors line up

More funding problems for space station
NASA, ESA swap station modules
Florida homeowners claim Delta damage
LockMart wants more Proton launches

NASA makes Hale-Bopp plans
Expects suggest quarantine for Mars samples
Scientists dispute global warming data
Bad Asteroid science, encyclopediae, Apollo transcripts, and SETI
"The Cape" canceled, Mir comes to Wisconsin, and hackers break into a NASA Web site...