Articles:
---
Atlas Launches Direct Broadcast Satellite
An Atlas IIA rocket launched a satellite on March 8 that will provide a new kind of direct broadcast television service to North America.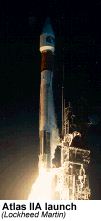 The Atlas IIA rocket, designated AC-128, lifted off from Cape Canaveral at 1:01am EST (0601 UT) March 8. The booster successfully placed the TEMPO-2 satellite into a trajectory for geosynchronous orbit.
     The launch had been delayed for three days. The first one-day delay was caused by a short-circuit in a battery on the first stage of the Atlas. The second was caused by a problem at Lockheed Martin's control center in California, and the final delay was weather-related.
     The TEMPO-2 satellite will be used by TCI Satellite Entertainment to provide direct broadcast services to viewers from Alaska and Hawaii to Puerto Rico. The company will work with its parent company, TCI, and Time Warner to provide the direct broadcast signal to current cable TV users as an add-on service.
     The system will allow users to take advantage of both the high-quality signal and wide range of programming available from direct broadcast television without having to give up local broadcast stations and other services available through cable TV.
     The satellite has a broadcast power of 3500 watts -- twice as powerful as other DBS systems -- and can be received by dishes on the ground as small as 34 cm (13.5 in.) in diameter.
---
Lunar Prospector on Schedule for Fall Launch
Lockheed Martin has completed construction of the Lunar Prospector spacecraft, and the Discovery-class probe is on schedule for a September launch to study the Moon.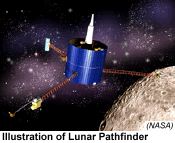 "We're delighted with progress to date," said Scott Hubbard, NASA Lunar Prospector mission manager. "Lockheed Martin and its construction team put a detailed program into place and executed it well within the established schedule and with tight cost control."
     Lockheed Martin will test the spacecraft over the next several months, then ship it to Florida in August for a September 24 launch.
     The 300-kg (660-lb.) spacecraft will go into a low polar orbit around the Moon for its one-year mission. The spacecraft will provide complete global maps of the Moon's gravity, surface composition, and magnetic field.
     Lunar Prospector should be able to confirm whether deposits of water ice exist in permanently-shadowed areas of the Moon's south pole. Water ice was indirectly discovered by the Clementine spacecraft in 1994, according to results published late last year.
     The $63-million mission is the third in the Discovery class of low-cost science missions, after the Near Earth Asteroid Rendezvous (NEAR) mission and Mars Pathfinder, both launched last year. Lunar Prospector, however, is the first Discovery mission selected after an extensive peer review process, beating out dozens of other proposals.
---
Microgravity Shuttle Mission Ready for April 3 Launch
The space shuttle Columbia is on track for an April 3 launch on a 15-day mission to conduct a series of experiments of the effects of materials in weightlessness.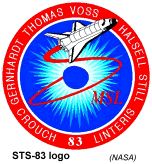 Columbia was rolled out to launch pad 39A on March 11. Preparations for the launch of STS-83, scheduled for 2:01pm EST (1901 UT) April 3, are on schedule, with no major problems reported.
     The seven-person crew will spent 15 days in orbit conducting experiments on the Microgravity Science Laboratory mission. A Spacelab module will hold 19 experiments that will study the manufacture of materials in microgravity, containerless processing of materials, and combustion in weightlessness.
     The mission builds upon the work of previous shuttle microgravity missions, most recently the Life and Microgravity Spacelab mission, STS-78, last June. That mission set an endurance record by spending 16 days and 21 hours in orbit.
---
X Prize Announces Ten Competitors
The X Prize, a private effort to jump-start space tourism by offering a $10 million prize, announced February 28 that ten companies have signed on as potential competitors for the award.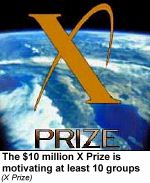 "We are looking for a 21st century Charles Lindbergh," said Dr. Peter Diamandis, founder of the X Prize. "The X Prize challenges the premise that only superpowers can launch people into space."
     The list of competitors reflects Diamandis's claim. While no major aerospace companies have signed on, a number of small, innovative startups were among the first to announce their intent to compete for the award.
     Included on the list of competitors are Burt Rutan of Scaled Composites; Gary Hudson and Bevan McKinney of HMX, designers of the Roton spacecraft; Robert Zubrin of Pioneer Rocketplane; and Rick Fleeter of PacAstro.
     "I believe that we are going to have space tourism and I am tired of waiting for someone else to do it," said Rutan. "Compared to the difficulty, danger and expense of flying in the 1920's, in relative numbers, leaving the atmosphere is a piece of cake."
     "We decided the best way to focus and motivate potential competitors was through a cash prize," said Diamandis. "We are opening the door to some radical designs which might not otherwise be considered by the traditional aerospace industry."
     The X Prize is a $10 million award for the first private spacecraft capable of taking three people at an altitude of 100 km (62 mi.) twice in a two-week period. Prize officials hope to follow in the successful footsteps of aviation prizes early this century.
---
[Last Section: Top Stories] [Next Section: Policy]
[Table of Contents] [SpaceViews Forum]