Click Here to visit a random spinoff!

There is great downloadable educational material and the are also several outstanding educational sites on the web. Please visit the links below to learn more about spinoffs and technology transfer.
---
Download Aerospace Technology Spinoffs, a compilation of 10 of NASA's most impressive spinoffs. This document was prepared by the United States Space Foundation in Acrobat (.pdf) format. If you don't have Acrobat Reader, you can obtain a free copy below:
---
Additionally, there are a couple of educational resources are available for downloading to your MAC or PC. The first is the Space Educators Handbook, which is a very interesting program touching on space program hilights and history. It is targeted towards young people, but something that all can enjoy. Installation instructions.

Spinoff. This is very well done and provides a wealth of examples of products which have become spinoffs.

Space Educator's Handbook download page
---
Educational Web Pages
Space Educators' Handbook
This is a great page which features teaching materials and downloadable multimedia files of educational nature. There is alot to see here and even more to download to your PC or MAC. Check it out!
Spinoff 1997, 1996, 1995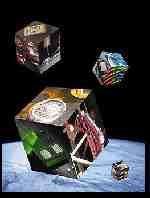 Homepage of NASA's publication Spinoff. This page is very informative and very well done. It is a fun page to browse.


Last Modifed Wednesday, 10-May-2000 20:31:45 PDT
This page is brought to you by the Arizona Space Grant Consortium. Server courtesy of SEDS.